This past Friday I celebrated my 38th birthday. It was a great day, but very busy. I went to get my nails and hair done in the morning for the Marine Ball on Saturday. After that my Dad and I headed to Gemma's school for their International Festival which there was foods from all of the families that attend QSI. We were able to have Indian, Japanese, Chinese, Malaysian, Mexican, Russian, Finnish, Swedish, and American foods. I have to say that the Malaysian food was to die for! I had curry puffs that my dear friend made and a chicken curry served in a bread bowl. I thought the American food table was funny sporting Macaroni and Cheese and Jell-O, not exactly my favorite cuisine.
In the afternoon I had a spa voucher to the Shangri-la Chi Spa for a Chi Balance Treatment. The spa is inside the Shangri-la Hotel, is gorgeous and decorated beautifully with a Tibetan theme. I have actually never been to such a beautifully decorated spa in my life. I had a nice foot bath followed by a shower.
We had dinner reservation at 6:30 pm and we had invited a few friends to dinner including our friends Carin and Barry Jones and Catherine Platt and Ethan Golding and the most special guest my Dad. We ate at my favorite restaurant in town called Tandoor. I think this is my most favorite Indian restaurant in the world! We had a beautiful spread with all of my favorite dishes. I eat there so frequently the guys that work there know exactly what I like. Jonny also got a cake for me which was a nice touch.
After dinner we joined up with a bunch of our friends who put together a rickshaw pub crawl they named "Pimp my Rickshaw". Here are a few photos of the night.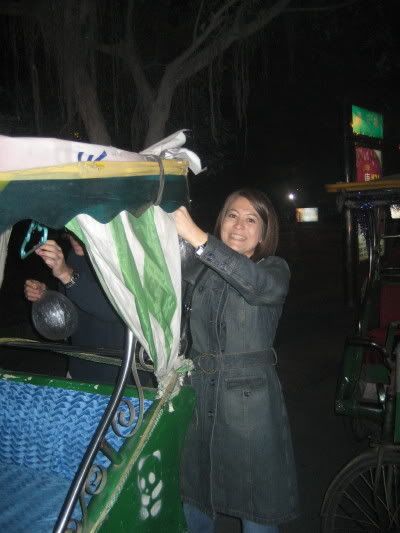 Here I am pimpin' up my rickshaw.

Jonny and me sharing a rickshaw for a minute although we were on separate teams. Notice the balloons!!!
Our friends Barry and Carin.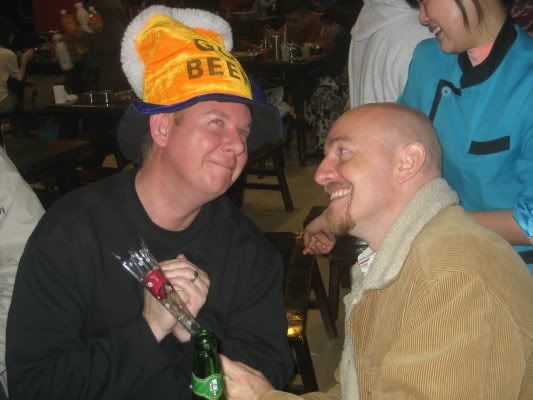 Jonny's other love AJ!
Once again things went horribly wrong with our pub crawl. The rickshaw drivers ran up a 960 rmb dinner tab at one of the restaurants along the way and expected us to pay. It is almost virtually impossible to do something like this and we ended up parting ways with them and they had to pay the bill.
We ended up taking taxis to some of our other hang outs, but everywhere was to loud and smoky. We ended up having shao kao outside of Cafe Paname and it was delicious! Too bad it was almost 3 am!!!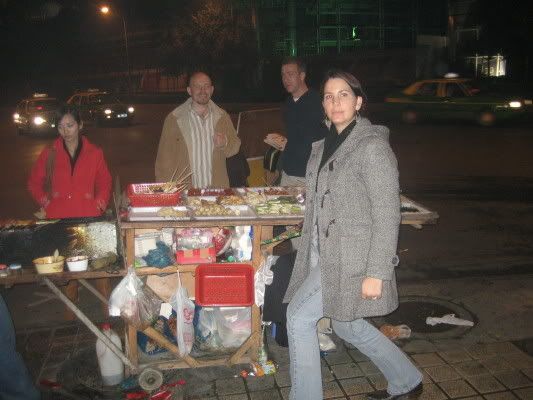 Yummy, shao kao!!!
It was a great birthday and I am looking forward to my 40th in a couple years!