The first thing on Sunday morning we headed to the Temple of Heaven to beat the crowds. I visited this temple when Brian was in town and was very impressed and knew that my dad would enjoy it. When we arrived it was mostly Chinese people going for dancing, tai chi, and many other Chinese activities in the park part of the temple. Here are some photos from our tour.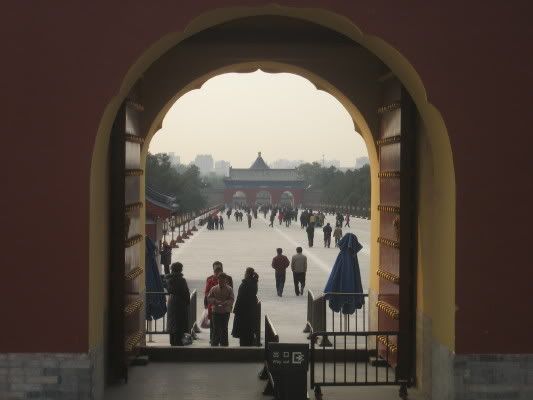 I love the doorways in the temples. They make great photos.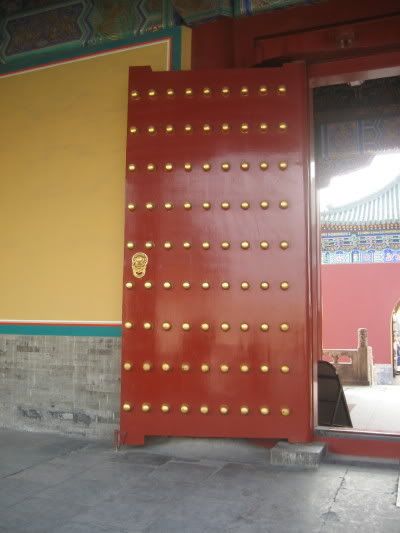 And the red doors are another favorite of mine to photo!
Gemma and me. It was absolutely freezing in Beijing and we were way underdressed!!!

Dad and Gemma enjoying the temple.
A group of gentlemen writing Chinese calligraphy with water.
A trip to the Temple of Heaven would not be complete without a trip to the Hong Qiao Pearl Market. We went shopping for jewelry and I have to say that we were quite successful. I really enjoy the markets in Beijing because you have to haggle for things quite a bit. I feel that I am pretty good at it because I always have the attitude that I really don't need anything , so if the price isn't right I won't buy it. I was able to buy some really nice jewelry that will make great Christmas gifts.
We had the pleasure of having lunch dim sum lunch at Horizons restaurant with some of our old friends from Chengdu. They food was amazing with scrumptious shrimp dumplings to Beijing Duck. We met the Owen, Lara and Xavier Tiam and Bruce and Reed Aitken and their soon to be delivered bump. Xavier and Gemma were boyfriend/girlfriend Gemma's first year at QSI and it was a great little reunion for them. They both have changed so much!


Here they are on our recent trip.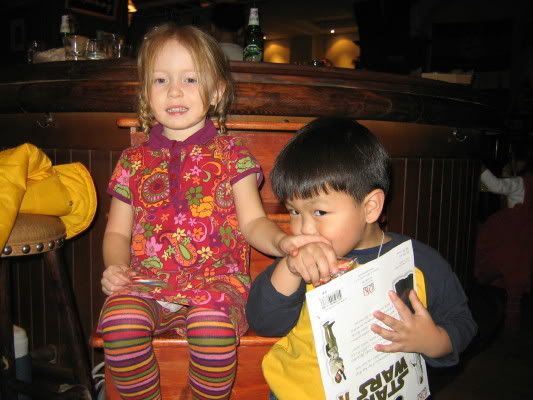 Here they are over 2 years ago.
After lunch Gemma went and had a play date over at the Tiam's house while my dad and I headed to YaShow market to have my dad fitted for his suit. Here are a few pictures of the ladies dotting on my dad.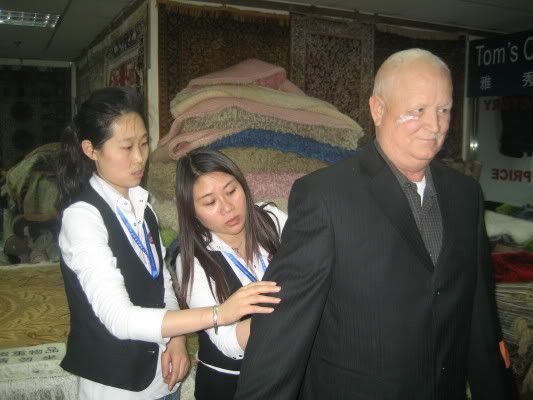 He is loving the attention!!!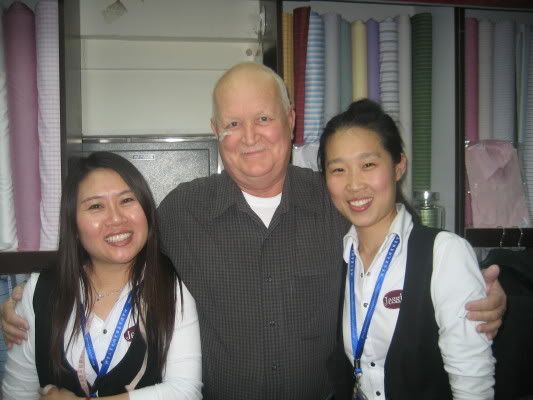 After the dim sum lunch I was unable in talking my Dad into eating anymore Chinese food that day. On the way back to our hotel he spotted an Outback Steakhouse, so our dinner plans were made.