On the Monday that Jonny and Brian were to return from their trip to Emei Shan I spent the day catching up on grocery shopping and tidying up around the house. Our ayi, Xiao Yang invited me and the kids to her house for dinner that evening and I accepted graciously as Jonny and Brian wouldn't be around for me to cook.
We went over and had a fabulous dinner of chicken drumsticks, long beans in garlic, roast duck, shredded potatoes with chilies, etc. Jonny and Brian phoned and said they were exhausted from their hike and would just stop at Xiao Yang's house to say hi and then go home and shower and go to bed.
Brian and Jonny showed up around 7 pm and there was still plenty of food to eat. They had both ate, but in Chinese culture it is impolite to refuse food and drink, so they nibbled away on the food that was in front of us. Xiao Yang's youngest brother arrived after his work and insisted on have a few beers with Jonny and Brian. The funny thing about the beer was that there wasn't actually any beer in the house, so Xiao Yang sent her 12 year old son down the street to pick up a few bottles. After they had finished a few beers and their food, Xiao Yang's brother insisted that they drink the famous Chinese alcohol called Baijiu. Baijiu is like doing a shot, but it can be either 38% alcohol or 52% alcohol. I am not sure what they were drinking, but it was strong anyway. After a couple bottles of baijiu (they are not huge bottles) they were all in the 'spirit' of things.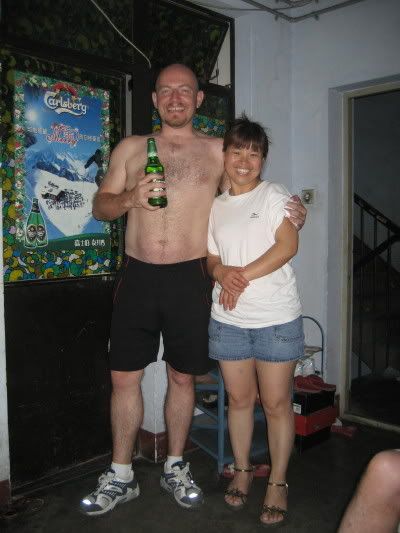 Jonny with our ayi, Xiao Yang.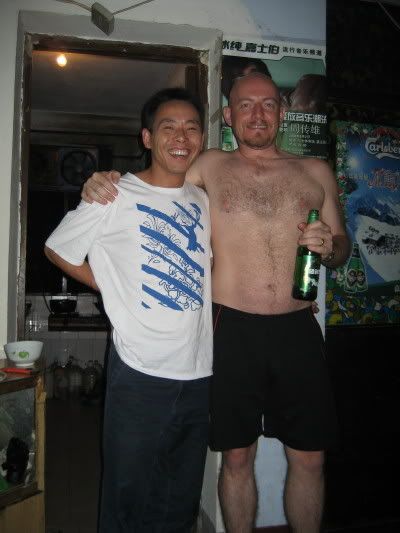 Jonny with our driver, Liu Bin.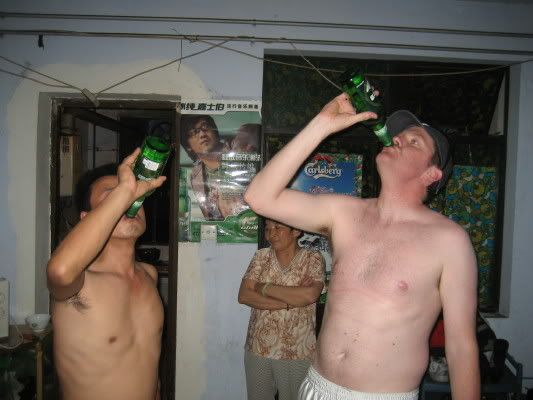 Xiao Yang's brother, Yang Feng Lei and Brian ganbei(ing)(cheers!) some pijiu (beer)!

Gemma having a laugh at Uncle Gingar!
Xiao Yang's boyfriend, Dong Min De, Yang Feng Lei, Jonny and Brian with another ganbei. The Chinese are all about ganbei!

The boys (Liu Bin, Dong Min De, Xiao Yang's son Bobo, Angus, Jonny, and Brian) with their shirts off, otherwise known as Chinese air conditioning.

After our fantastic dinner and entertainment provided by Jonny and Brian I dropped the two of them off at the Shamrock. I heard later we weren't the only ones to be entertained by these two!
Jonny and Brian, a perfect Baijiu couple!

The previous week-end our friend Sam introduced Brian to a woman named Connie. She is quite the sweetheart and a good sport. Brian called her and asked her to meet him at the Shamrock. Here is a picture of the happy couple.
Rumor has it Connie and Brian spent the rest of his time in Chengdu together and they are still in contact.