We were fortunate enough to have great babysitters at the hotel. We decided to take advantage of this and head down to Patong Beach. Patong Beach is the most populated part of the island and is know to be a bit seedy. We thought we would find a great seafood restaurant and here is what we found...
You can see the massive tiger prawns and up in the right hand corner with kind of a grayish tint is a huge Phuket Lobster!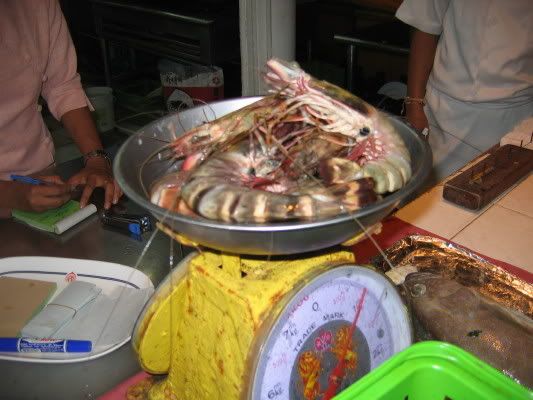 We went with the Tiger Prawns...

and a red snapper!!!
Here we are after our feast! We were stuffed!
While were in Patong we walked up and down one of the streets seeing what type of entertainment that they had. There were tons of bars and lots of Cabaret shows. We decided to take in one of the Cabaret shows because of the gorgeous lady boys that we saw on the streets inviting us in to their shows. I have to say I have never in my life seen so many women who were actually men! They were absolutely stunning and almost flawless! Another feature that most of them had actual plastic surgery. Unfortunately we had to leave the show half way through because we had to get back to the babysitter, but it was extremely entertaining.