On Tuesday we decided to take the kids on their first snorkeling expedition. We bought a half day excursion to the Khai Islands. Gemma was really excited for her first time 'finding Nemo' and Angus was excited about the boat. We were picked up at our hotel at 12 pm and drove to the dock which was about 30 minutes away. We sat in chairs waiting for the boat to leave, but after about 15 minutes of waiting we questioned when we were leaving. When we asked what the deal was they kept saying '5 minutes, 5 minutes'. Then they told us if we wanted flippers it would be 100 Thai baht for flipper rental. Huh? We were on a snorkeling trip and they were charging for flippers? Another 20+ minutes later and they had us board our boat with about 35 other people.
As you can imagine we were quite weary of the trip at this point. We were told that we needed to bring our belongings on the beach and rent chairs for 150 baht, so they would make sure that our things weren't stolen. We very frustrated with all of the add ons. We arrived at the first beach and put our gear on. We got in the water and Gemma began to snorkel, but then saw a fish and decided this wasn't for her. Then a boat came in and Angus and I got caught in its tide and a very rocky, shallow area. By the time we got out of it we were thoroughly scraped up and Angus was bawling. We were unable to console him and walked him up and down the beach until he calmed himself. Here he is after his ordeal.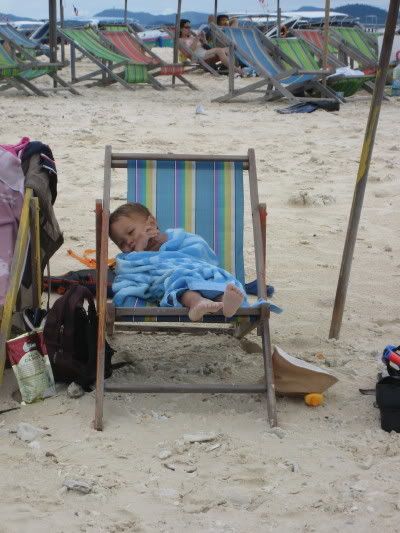 After a quick stop on the first island they took us about 5 minutes out from shore and let us jump off the boat into the water. Angus was definitely having no part of this and Gemma didn't want to either, but she did go in with me for a minutes. After a very short stop we went to our 3rd and final stop. Here are some photos of this beautiful little beach.

The kids playing in a little cove. We saw little fish and big black crabs here.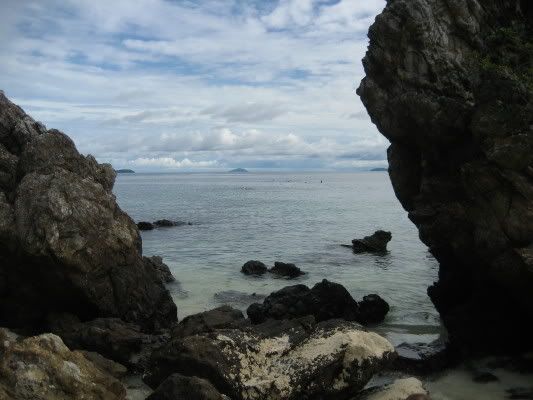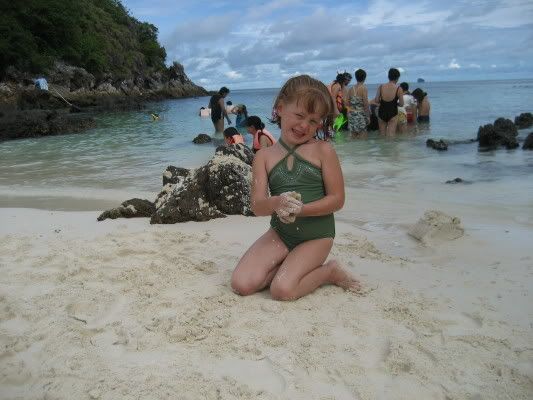 Gemma enjoying some sand time!
Jonny getting a little snorkeling time in.
The kids and Jonny building a sand castle.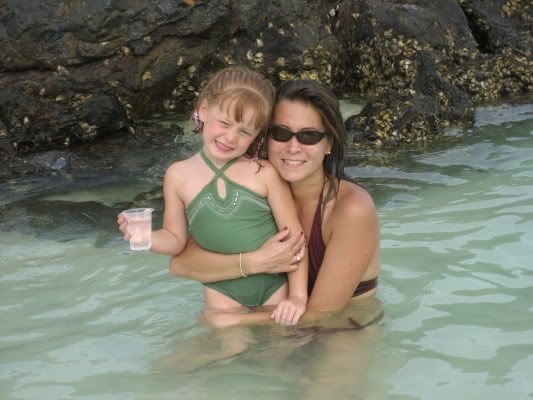 Gemma and me enjoying the water!
Our last stop ended up being really great. The kids were in better form and their fears of the water and fish seemed to go away. We didn't get much snorkeling in, but we didn't really care. We had a great time paddling around and hanging out on the beach with the kids.